L'Agenda Gourmand du Château Phélan Ségur – March 2017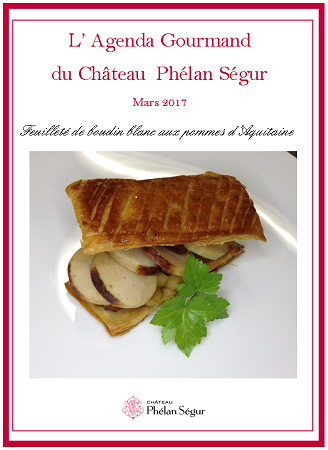 Ingredients for 4 people
2 white puddings
3 Chanteclair apples
20g honey
40g butter
Sea salt
Ground pepper
200g flaky pastry
1 egg yolk
50g veal jus
The pastries:
Roll out the flaky pastry to 6mm thickness and cut perfect rectangles of 10cm by 4cm.
Place the pastries on a baking sheet and brush with egg yolk, decorating with the point of a knife and refrigerate for 15 min. Pre-heat the oven to 200°C.
Brush with egg a second time, then cook for 12 min between two sheets, to have uniform rising and height.
Leave to cool then cut off the tops.
The apples:
Peel and then dice the apples, sauté them in a hot pan with a little butter; they should be browned and firm. Add the honey, salt and pepper, and keep hot.
Heat the veal jus.
Presentation:
In a little foaming butter, gently brown the white puddings, basting them so that they become shiny. The skin should be slightly crusty but be careful they don't burst.
Heat the pastries than stuff with the apples, cut the puddings into 5mm slices then place them on the apples.
Replace the tops, arrange the pastries on a hot plate, add a little sauce and serve.